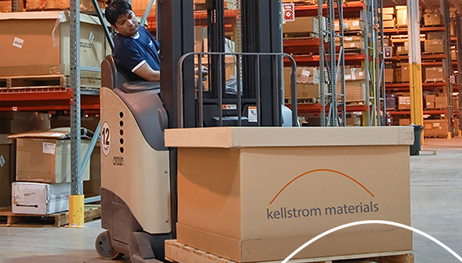 Kellstrom Commercial Aerospace Acquires AirLiance Materials
Two Operations Combine to Provide Greater In-depth Commercial Aviation Maintenance Supply Chain Support
May 17, 2013 — Kellstrom Commercial Aerospace, Inc. ("Kellstrom") announced today that it has acquired AirLiance Materials LLC ("AirLiance") from Lufthansa Technik.
AirLiance's current Chief Executive Officer, Roscoe Musselwhite, will become President and CEO of Kellstrom Commercial Aerospace, Inc. ("Commercial") and a member of Kellstrom's Board of Directors.
Following the AirLiance acquisition, the Commercial warehousing and logistics operations of Kellstrom will migrate over the next 6-12 months to AirLiance's state-of-the-art 161,000 sq. ft. warehouse facility and headquarters near O'Hare Airport outside of Chicago. The combined company will also maintain a significant sales presence in South Florida.
According to Kellstrom, "Mr. Musselwhite's initial charter will be to integrate the two commercial operations into a single, integrated organization that will be staffed, equipped and positioned to become a world-class leader capable of providing even greater in-depth solutions in support of commercial aviation air transport and MRO operators."
Mr. Musselwhite added, "As part of the agreement, the merged operation will use the Kellstrom name, so in addition to combining operations, we will shortly begin the process of re-branding all of our commercial operations under the Kellstrom Commercial Aerospace brand. It is important for our customers to know that this acquisition is highly advantageous for any airlines or MROs currently doing business with either organization. We will be able to provide new levels of support and help in significantly reducing the length of the supply chain while reducing inventory and keeping maintenance operations' materials at optimum levels."
The combination of the two companies will greatly enhance its market presence. Kellstrom Commercial Aerospace is a recognized leader worldwide as one of the largest and most reliable suppliers of new and used aircraft parts to the Global aviation aftermarket. AirLiance Materials is an industry-leading supplier of high-quality surplus parts to the global air transport and MRO industry. Both are acknowledged full service providers of logistics and material management solutions. Together, the new company has a 36-year leadership history within the industry, and now has expanded its support capabilities significantly. The new company will continue to provide its customers with advanced e-commerce solutions tied to real-time access to one of the largest, most targeted flight-ready inventories in the industry. It will also continue to provide custom spare parts program solutions to well over 1000 customers, operating 24 hours a day, seven days a week.
Kellstrom Aerospace is a portfolio company of Inverness Management LLC. Moelis & Company served as the exclusive financial advisor to Kellstrom and provided advice in connection with this transaction, while legal advice was provided by Kirkland & Ellis LLP.