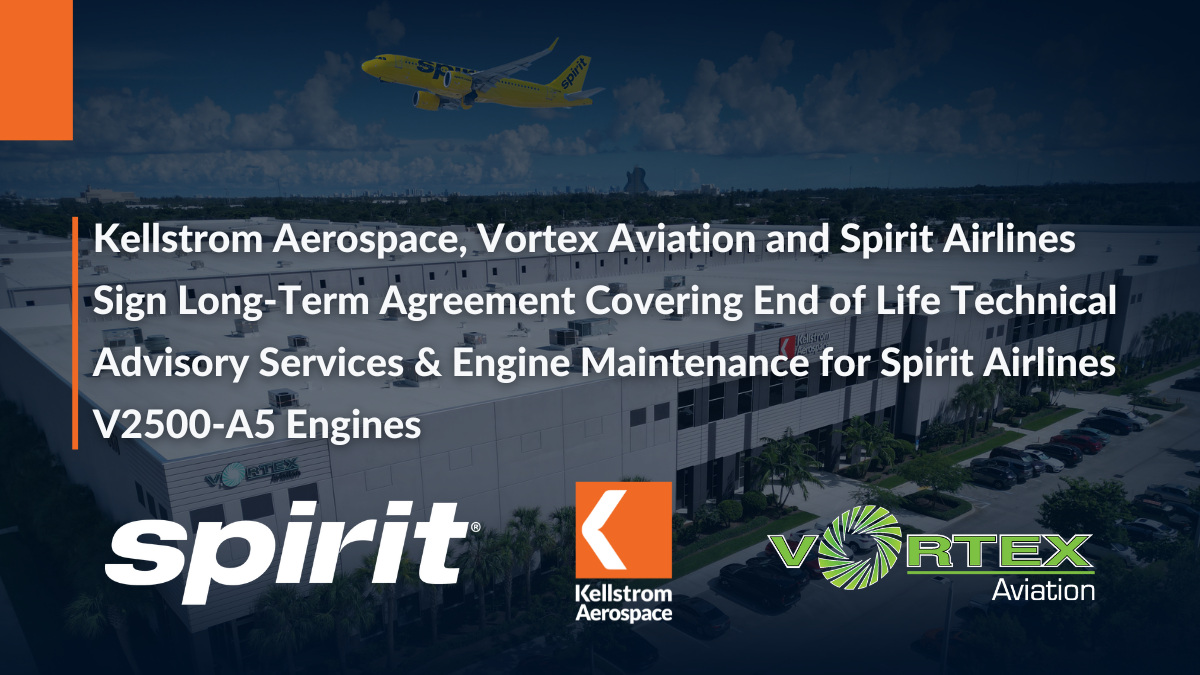 Kellstrom Aerospace, Vortex Aviation and Spirit Airlines Sign Long-Term Agreement Covering End of Life Technical Advisory Services & Engine Maintenance for Spirit Airlines V2500-A5 Engines


DAVIE, FL – October 18, 2022 – Kellstrom Aerospace, a leader in aviation life-cycle cost management solutions, and Spirit Airlines have entered into a multi-year agreement whereby Kellstrom Aerospace will provide technical advisory and end-of-life advisory services and Vortex Aviation, a wholly owned subsidiary of Kellstrom Aerospace, will supply engine hospital shop and field services maintenance for Spirit Airlines' V2500-A5 engines covered under maintenance agreements. Kellstrom will provide a variety of technical support services, including the option for on-site shop visit support, aimed at reducing Spirit's maintenance costs and supporting the transition of Spirit's fleet by optimizing value realized from the retirement of end-of-life assets. Kellstrom will deliver best-in-class savings opportunities through the products and services offered by Kellstrom's Technical Services Group (KTSG). Vortex Aviation will supply engine removal/installation, hospital shop visit and field services repairs, and lease return support.

"Spirit Airlines operates one of the youngest and most fuel-efficient fleets in the industry, and we look forward to adding the technical expertise of Kellstrom Aerospace and Vortex Aviation in a variety of support services as we continue to deliver the best value in the sky," said Kirk Thornburg, Spirit Airlines' Vice President of Fleet Management.

"We at Kellstrom Aerospace and Vortex Aviation are extremely proud to enter into a long-term partnership with a premier airline like Spirit Airlines," said John McKirdy, SVP Kellstrom Technical Services Group. KTSG will provide flexible and cost-effective technical advisory / end-of-life services and through Vortex Aviation, will provide engine maintenance services in support of Spirit Airlines' V2500-A5 engines covered under maintenance agreements."

About Kellstrom Aerospace
Kellstrom Commercial Aerospace, Inc. dba Kellstrom Aerospace is one of the largest commercial aftermarket distribution channel partners to leading OEMs, airlines, leasing companies, financial institutions, air transport operators and MRO's worldwide. Differentiated by its operational heritage, on-hand relevant inventory and parts management emphasis, Kellstrom Aerospace provides immediate access to one of the world's largest and most comprehensive inventories of new aircraft parts for engine and airframe heavy maintenance, phase checks and line maintenance.

Kellstrom Aerospace offers an unparalleled level of cost-effective supply chain solutions, including OEM parts distribution and OEM services, commercial aftermarket parts provisioning and sunset fleet services, technical services, consignment management, repair management, overhauled rotable component programs, whole aircraft/engine asset leasing and trading, and fleet provisioning programs based on real world experience. Kellstrom Aerospace provides 24/7 AOG and Just-In-Time (JIT) support covering all service offerings to over 2,000 airline and MRO customers in 90 countries. For more news and information on Kellstrom Aerospace, please visit: www.kellstromaerospace.com.

About Vortex Aviation
Vortex provides engine maintenance services to the aviation industry supporting the repair, troubleshooting, and maintenance of today's modern turbine engines with effective solutions that reduce customers' maintenance costs and help keep their aircraft flying. Vortex Aviation's global core competencies include worldwide AOG repair & maintenance. Its three strategically located hospital shops provide targeted quick turn repair solutions for modern next generation and classic turbine engines used by the global, commercial, and regional jet aircraft markets. Vortex's full-time staff consists of OEM trained technicians at its certified repair stations in Fort Lauderdale, FL, and Shannon and Dublin, Ireland. These operations have extensive background with major airlines, Operators, MRO's, Lessors and Asset Owners. For more information on Vortex Aviation, visit www.vortexaviation.com.

About Spirit Airlines
Spirit Airlines (NYSE: SAVE) is committed to delivering the best value in the sky. We are the leader in providing customizable travel options starting with an unbundled fare. This allows our Guests to pay only for the options they choose — like bags, seat assignments and refreshments — something we call Á La Smarte. We make it possible for our Guests to venture further and discover more than ever before. Our Fit Fleet® is one of the youngest and most fuel-efficient in the U.S. We serve destinations throughout the U.S., Latin America and the Caribbean, and are dedicated to giving back and improving those communities. Come save with us at spirit.com.