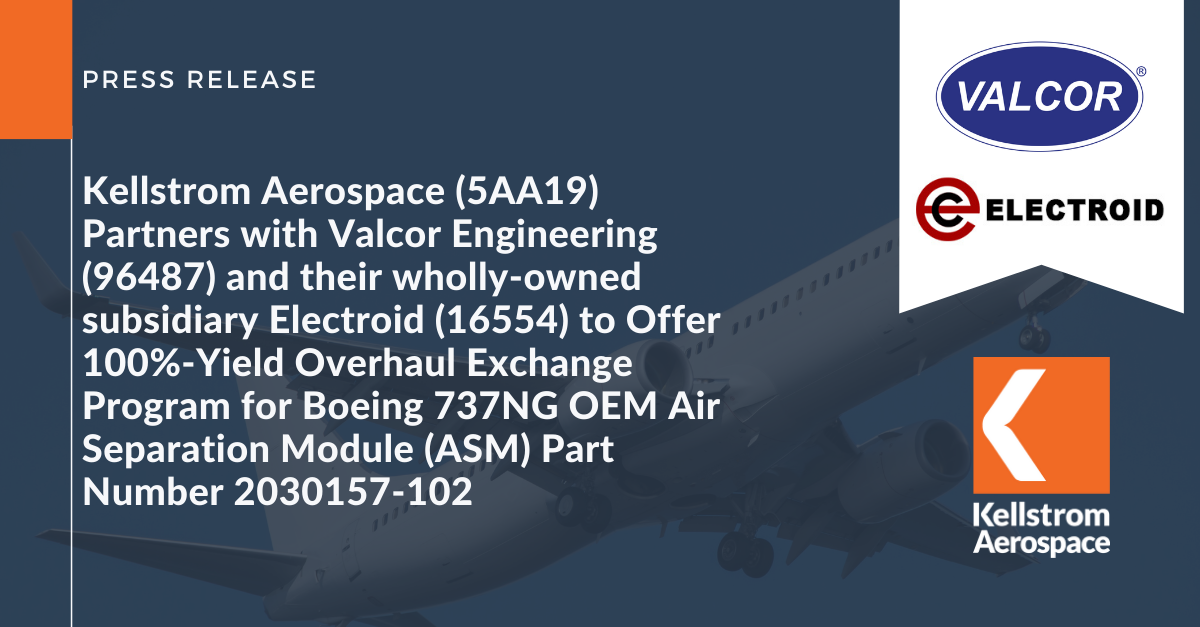 Kellstrom Aerospace Partners with Valcor Engineering and their wholly-owned subsidiary Electroid to Offer 100%-Yield Overhaul Exchange Program for Boeing 737NG OEM Air Separation Module (ASM)

Davie, Florida – April 13, 2021 – Kellstrom Aerospace (5AA19), a global commercial aftermarket OEM Distribution leader providing a comprehensive range of aircraft lifecycle solutions, is proud to announce an aftermarket partnership with Electroid (16554), a wholly-owned subsidiary of Valcor Engineering Corporation (96487) to offer a 100% yield overhaul exchange program for OEM Air Separation Module (ASM) Part Number 2030157-102, which is the original equipment installed on production Boeing 737NG aircraft manufactured after 2008. The Air Separation Module is an integral component of the On-Board Inert Gas Generator System (OBIGGS) for fuel tank inerting to protect against explosions by sources of ignition such as electrical shorts, bonding failures, mechanical failures of fuel pumps and lightning protection.
The 100% yield overhaul exchange program on P/N 2030157-102 ASM offers the OEM part number in overhauled condition with a dual release FAA/EASA 8130-3 airworthiness release. This offering represents the best value solution for continued airworthiness of the Air Separation Module requiring no retrofit of alternative Part Numbers, no aircraft modifications and no approval of an FAA/PMA top assembly as opposed to other options being offered in the market, some of which require costly aircraft modifications. P/N 2030157-102 ASM is eligible for installation on all 737NG Models including 737-600, 737-700, 737-800,737-900, 737-900ER.


"Kellstrom is delighted to offer this best value aftermarket solution for 100% yield Overhaul Exchange of Air Separation Modules to 737NG operators worldwide who do not want to be forced into approving an FAA/PMA solution or performing aircraft modifications to accommodate an alternative OEM design at a high cost," said Daniel Adamski, Executive Vice President - Distribution at Kellstrom Aerospace.
About Kellstrom Aerospace
Kellstrom Commercial Aerospace, Inc. dba Kellstrom Aerospace is a global Commercial Aftermarket OEM Distribution company with a portfolio of over 30 OEMs in support of a broad customer base of over 2,000 airlines, leasing companies, financial institutions, air transport operators and MRO's in over 90 countries worldwide. Differentiated by its aggressive aftermarket strategy, data-driven management approach and logistical management excellence to achieve a very high distribution order fill rate from stock, Kellstrom Aerospace provides stocking locations on three (3) continents immediate access to one of the world's largest and most comprehensive inventories of new OEM aircraft parts for engine and airframe heavy maintenance, phase checks and line maintenance.

Kellstrom Aerospace offers an unparalleled level of cost-effective supply chain solutions, including OEM parts distribution and OEM services, commercial aftermarket parts provisioning and sunset fleet services, technical services, consignment management, repair management, overhauled rotable component programs, whole aircraft/engine asset leasing and trading, and fleet provisioning programs based on real world experience. Kellstrom Aerospace provides 24/7 AOG and Just-In-Time (JIT) support covering all service offerings. For more news and information on Kellstrom Aerospace, please visit: www.kellstromaerospace.com.

About Valcor Engineering Corporation
Valcor Engineering Corporation, designs and manufactures fluid control and electro-mechanical components for aircraft fuel, hydraulic, ECS, NGS and other systems. With a library of more than 18,000 designs, Valcor's design team can modify existing technology to suit practically every hard to handle application. Valcor specializes in custom applications and can create an entirely new product to meet your needs.