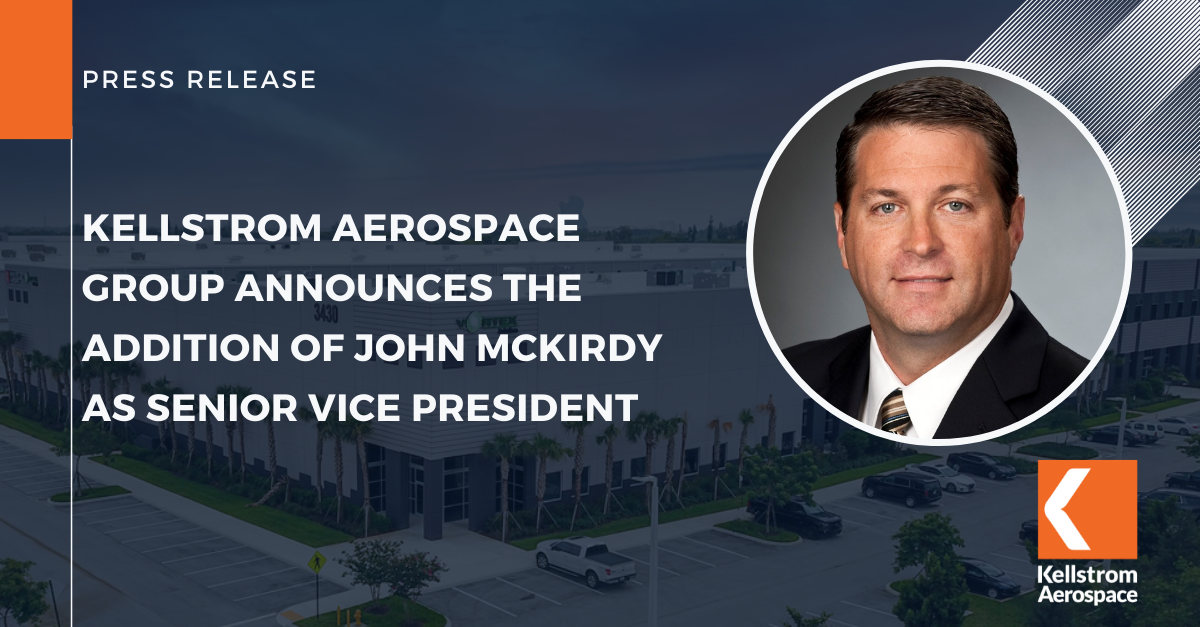 Kellstrom Aerospace Group Announces the Addition of John McKirdy as Senior Vice President

Davie, Florida – August 3, 2021 – A leader in Aviation Life-Cycle Cost Management Solutions, Kellstrom Aerospace Group announces the hiring of John McKirdy as Senior Vice President. McKirdy has been involved in broad aviation aftermarket services for over 30 years with a focus and experience in executive management, operational excellence, and strategic sales.


"John's experience complements the existing executive team members and the overall strategy of the Kellstrom Aerospace Group of companies", said Kellstrom CEO, Jeff Lund. "With all of this experience, John's immediate focus is to enhance the existing capabilities and systems at our Vortex Aviation facility in Davie, FL, and alongside our management team lead our growth initiatives and strategies. We are extremely pleased to have John join our Team."
McKirdy's most recent role was Chief Commercial Officer at Wencor Group, LLC. Prior to that role, while at Chromalloy Gas Turbine, LLC McKirdy served as Vice President of Global Aftermarket and General Manager of the San Diego Engine FAA Repair Station. Previously, McKirdy was with Air Canada in a variety of leadership roles, including P&L responsibility for the Engine Maintenance Centre and Eastern Operations for Airframe Maintenance. He has an MBA from The John Molson School of Business- Concordia University, Montreal Canada.

"I am very proud to be joining the Kellstrom Aerospace Group team with a focus on engine services and management for Vortex Aviation's Davie, Florida facility. Kellstrom and Vortex's comprehensive and agile set of aviation industry life-cycle cost management solutions are a pivotal requirement for our current and future customers, and I look forward to working with our Team and customers to meet the aviation industry's needs", said John McKirdy.
About Kellstrom Aerospace
Kellstrom Aerospace is one of the largest supply chain partners to leading OEMs, airlines, leasing companies, financial institutions, air transport operators and MRO's worldwide. Differentiated by its operational heritage, on-hand relevant inventory and parts management emphasis, Kellstrom Aerospace provides instant access to one of the world's largest and most comprehensive inventories of new and pre-owned aircraft parts for engine and airframe heavy maintenance, phase checks and line maintenance.

Kellstrom Aerospace offers an unparalleled level of cost-effective supply chain solutions, including OEM parts distribution & OEM services, pre-owned parts distribution, commercial aftermarket parts provisioning and sunset fleet services, technical services, consignment management, repair management, overhauled rotable component programs, whole aircraft/engine asset leasing & trading, and fleet provisioning programs based on real world experience. Kellstrom Aerospace provides 24/7 AOG and JIT support covering all service offerings. For more news and information on Kellstrom Aerospace, please visit: www.kellstromaerospace.com.

About Vortex Aviation
Vortex provides knowledgeable engine maintenance expertise to the aviation industry supporting the repair, troubleshooting, and maintenance of today's modern turbine engines with effective solutions that reduce customers' maintenance costs and help keep their aircraft flying. Vortex Aviation's global core competencies include worldwide AOG repair & maintenance. Its four strategically located hospital shops provide targeted quick turn repair solutions for modern next-generation and classic turbine engines used by the global, commercial, and regional jet aircraft markets. Vortex's full-time staff consists of OEM trained technicians at all of its four certified repair stations in Davie, FL, Shannon and Dublin, Ireland, plus Singapore. These operations have extensive background with major airlines, MRO's, military and government agencies. For more information on Vortex Aviation, visit www.vortexaviation.us