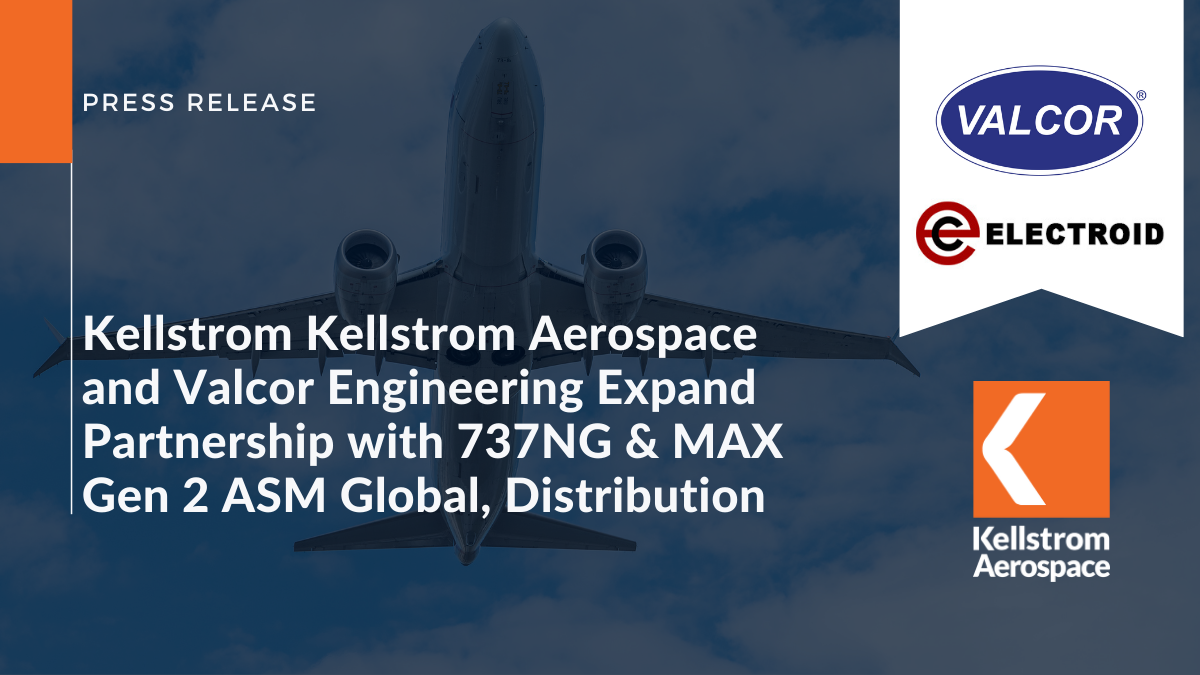 Kellstrom Aerospace and Valcor Engineering Expand Partnership With 737NG & MAX Gen 2 ASM Global, Distribution
DAVIE, fl – October 16, 2023 – Kellstrom Aerospace (CAGE 5AA19) , a global commercial aftermarket OEM Distribution leader providing a comprehensive range of aircraft lifecycle solutions, is proud to announce the expansion of its partnership with Valcor Engineering Corporation and wholly owned subsidiary Electroid with the addition of global distribution of Valcor's Gen 2 Air Separation Module (ASM), a core component of the fuel inerting system (ATA 47) with installation eligibility on all models of the Boeing 737NG as well as the MAX (-8 and -9).
Valcor Engineering Corporation and wholly owned subsidiary Electroid is the market leader in Air Separation Modules (ASMs) for fuel inerting systems (ATA 47) with product applications on a broad range of Boeing Aircraft including new generation aircraft incorporating the most advanced and latest generation technology. Kellstrom Aerospace and Valcor Engineering Corporation share a global aftermarket partnership that has consistently grown in scope and size and encompasses OEM parts distribution, aftermarket new part development, and a 100% yield overhaul exchange program on ASMs.
"We are delighted to announce the addition of global commercial aftermarket distribution of the Gen 2 ASM for 737NG and MAX 8 and 9 to our existing aftermarket distribution partnership with Valcor Engineering and wholly owned subsidiary Electroid, and we are very excited for the opportunity to continue delighting our global customer base with a broad range of options among Valcor's high quality parts, innovative solutions, and best value savings opportunities." said Daniel Adamski, Executive Vice President - Distribution at Kellstrom Aerospace.
"Kellstrom Aerospace has been an outstanding commercial aftermarket channel partner for Valcor Engineering Corporation and an effective driver for incremental growth with broad support capabilities on a global level. We are very pleased by the continued growth of our commercial aftermarket partnership with Kellstrom Aerospace driven by solid performance, and we are very optimistic about the future of our collaboration," said Steve Etter, Vice President Aftermarket.
About Kellstrom Aerospace
Kellstrom Commercial Aerospace, Inc. dba Kellstrom Aerospace is one of the largest commercial aftermarket distribution channel partners to leading OEMs, airlines, leasing companies, financial institutions, air transport operators and MRO's worldwide. Differentiated by its operational heritage, on-hand relevant inventory and parts management emphasis, Kellstrom Aerospace provides immediate access to one of the world's largest and most comprehensive inventories of new aircraft parts for engine and airframe heavy maintenance, phase checks and line maintenance.
Kellstrom Aerospace offers an unparalleled level of cost-effective supply chain solutions, including OEM parts distribution and OEM services, commercial aftermarket parts provisioning and sunset fleet services, technical services, consignment management, repair management, overhauled rotable component programs, whole aircraft/engine asset leasing and trading, and fleet provisioning programs based on real world experience. Kellstrom Aerospace provides 24/7 AOG and Just-In-Time (JIT) support covering all service offerings to over 2,000 customers in 90 countries. For more news and information on Kellstrom Aerospace, please visit: www.kellstromaerospace.com.
About Valcor Engineering Corporation
Since 1951, Valcor Engineering has unceasingly continued to design and manufacture fluid control components, motion control components, and systems for some of the most demanding applications our customers have. When you work with Valcor Engineering, you tap into the power of a reliable, proven partner who supports your program from concept to production, and beyond! It all begins with our engineering and manufacturing team. Our world-class staff of engineers, designers, and support technicians utilize a fully-equipped facility designed for the creation, testing, and delivery of quality fluid control components, motion control components, and systems that meet the most precise and exacting standards. For more news and information on Valcor Engineering Corporation visit: www.valcor.com