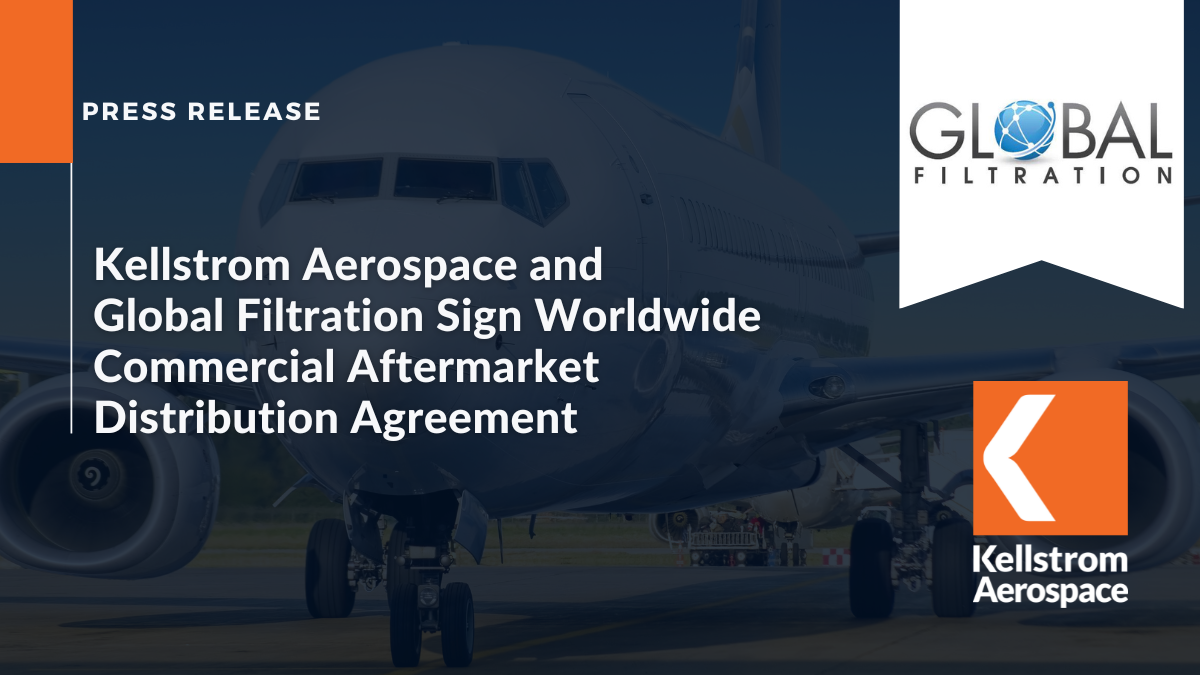 Kellstrom Aerospace and Global Filtration Sign Worldwide Commercial Aftermarket Distribution Agreement
DAVIE, FL – February 7, 2023 – Kellstrom Aerospace (CAGE 5AA19) , a global commercial aftermarket OEM Distribution leader providing a comprehensive range of aircraft lifecycle solutions, is proud to announce the appointment as worldwide aviation commercial aftermarket distributor of Global Filtration, Inc. (CAGE 099V1) for commercial aerospace filtration products eligible for installation on a broad range of aircraft.
This commercial aftermarket partnership will allow Kellstrom Aerospace to provide an even greater number of high-quality savings solutions for airlines and MRO customers with Factory New Air Filters including HEPA Cabin Air Filters, Hydraulic Filters and Nitrogen Generating Systems (NGS) Prefilters and Filter Kits.
"We are delighted to announce our latest aftermarket distribution channel partnership with Global Filtration, Inc., and we are very excited to add their products to our comprehensive compliment of niche savings opportunities for our valued global customer base consisting of over 2,000 Airlines and MROs in ninety (90) countries," said Daniel Adamski, Executive Vice President - Distribution at Kellstrom Aerospace.
"We are very optimistic about Kellstrom's ability to help us expand the market penetration of our line of high-quality commercial aftermarket filtration products, representing important savings opportunities to airlines and MROs on a global scale," said Rick Caouette, President/CEO Global Filtration, Inc.
About Kellstrom Aerospace
Kellstrom Commercial Aerospace, Inc. dba Kellstrom Aerospace is one of the largest commercial aftermarket distribution channel partners to leading OEMs, airlines, leasing companies, financial institutions, air transport operators and MRO's worldwide. Differentiated by its operational heritage, on-hand relevant inventory and parts management emphasis, Kellstrom Aerospace provides immediate access to one of the world's largest and most comprehensive inventories of new aircraft parts for engine and airframe heavy maintenance, phase checks and line maintenance.
Kellstrom Aerospace offers an unparalleled level of cost-effective supply chain solutions, including OEM parts distribution and OEM services, commercial aftermarket parts provisioning and sunset fleet services, technical services, consignment management, repair management, overhauled rotable component programs, whole aircraft/engine asset leasing and trading, and fleet provisioning programs based on real world experience. Kellstrom Aerospace provides 24/7
AOG and Just-In-Time (JIT) support covering all service offerings to over 2,000 customers in 90 countries. For more news and information on Kellstrom Aerospace, please visit: www.kellstromaerospace.com.
About Global Filtration
Global Filtration, Inc. was founded in 1995 to provide commercial aircraft operators with truly cost effective, high quality, certified parts. Global Filtration products are FAA approved, meet CFR 21.303, offer leading technology in product development, and deliver hard-to-find products under contract. All Global Filtration filters and aircraft products are shipped with 8130-3 Airworthiness tags or Certificate of Conformance documents. Global Filtration is compliant with ISO 9000 specifications and approved under FAA 00-56A standards. All products are factory new condition.