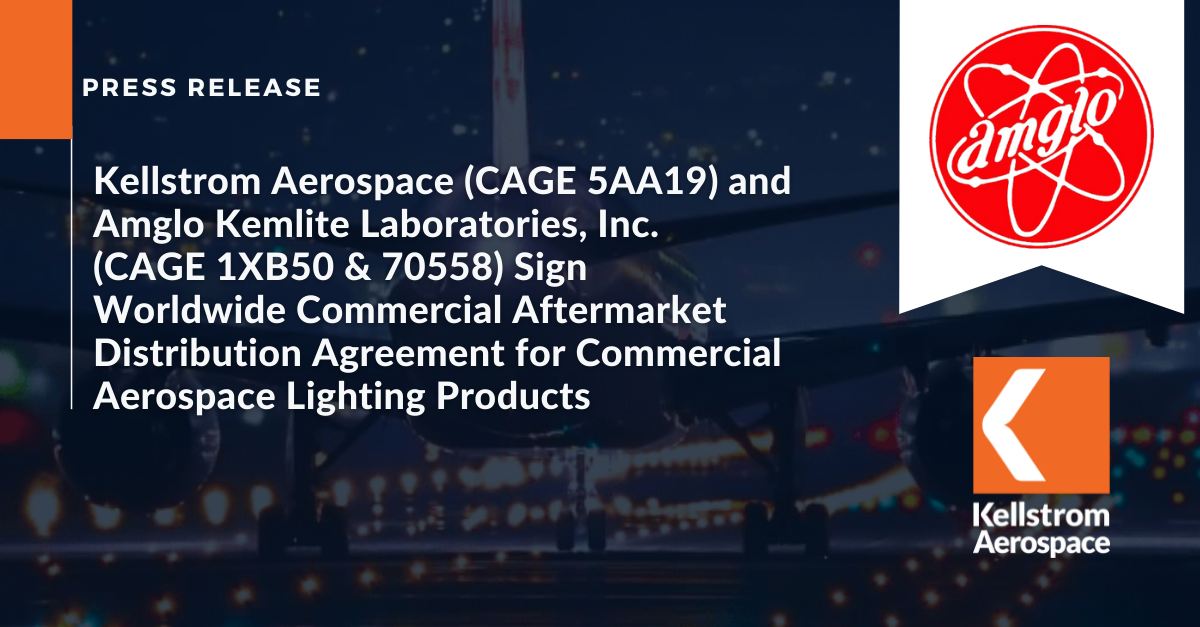 Kellstrom Aerospace and Amglo Kemlite Laboratories, Inc. Sign Worldwide Commercial Aftermarket Distribution Agreement


Davie, Florida – April 26, 2022 – Kellstrom Aerospace (CAGE 5AA19) , a global commercial aftermarket OEM Distribution leader providing a comprehensive range of aircraft lifecycle solutions, is proud to announce the appointment as worldwide aviation commercial aftermarket distributor of Amglo Kemlite Laboratories, Inc. (CAGE 1XB50 & 70558) for commercial aerospace lighting products.

This commercial aftermarket partnership will allow Kellstrom Aerospace to support the material requirements of international airlines and MRO customers with Factory New Amglo Kemlite Quartz Halogen Landing and taxi lights. These lights are Boeing IPC approved for many Boeing aircraft models and meet the corresponding ANSI Specs for many additional aircraft manufacturer applications; moreover, FAA-PMA approval has been granted on most other major aircraft types. Amglo Kemlite quartz halogen landing and taxi lights continue to shine as the halogen lamp remains the most cost-effective solution and where halogen lamps have an installed base of 80-90% of in service aircraft. Additionally, Kellstrom and Amglo Kemlite will partner in support of customer LED retrofit programs.

"We are delighted to announce our latest aftermarket distribution channel partnership with Amglo Kemlite Laboratories, Inc. The Kellstrom Distribution Team is very proud to partner with an industry leader in quartz halogen and LED Landing and Taxi Lights with products proudly made in the USA for 50+ years, and this product line adds another perfect complement to our diversified OEM products portfolio," said Daniel Adamski, Executive Vice President - Distribution at Kellstrom Aerospace.

About Kellstrom Aerospace
Kellstrom Commercial Aerospace, Inc. dba Kellstrom Aerospace is one of the largest commercial aftermarket distribution channel partners to leading OEMs, airlines, leasing companies, financial institutions, air transport operators and MRO's worldwide. Differentiated by its operational heritage, on-hand relevant inventory and parts management emphasis, Kellstrom Aerospace provides immediate access to one of the world's largest and most comprehensive inventories of new aircraft parts for engine and airframe heavy maintenance, phase checks and line maintenance.

Kellstrom Aerospace offers an unparalleled level of cost-effective supply chain solutions, including OEM parts distribution and OEM services, commercial aftermarket parts provisioning and sunset fleet services, technical services, consignment management, repair management, overhauled rotable component programs, whole aircraft/engine asset leasing and trading, and fleet provisioning programs based on real world experience. Kellstrom Aerospace provides 24/7 AOG and Just-In-Time (JIT) support covering all service offerings to over 2,000 customers in 90 countries. For more news and information on Kellstrom Aerospace, please visit: www.kellstromaerospace.com.

About Amglo Kemlite
Amglo Kemlite Laboratories, Inc., established in 1935, is a global manufacturer of specialty lamps. The company services O.E.M. equipment manufacturers and distributors in the fields of aerospace lighting, airfield lighting, medical lighting, vehicular lighting, obstruction lighting, railroad lighting and laser lamp industries. The company's mission is simple: Provide quality products that meet the needs of customers in a timely manner with the best customer service experience. Amglo has manufacturing facilities in the U.S. and Mexico. For more information, visit www.amglo.com.