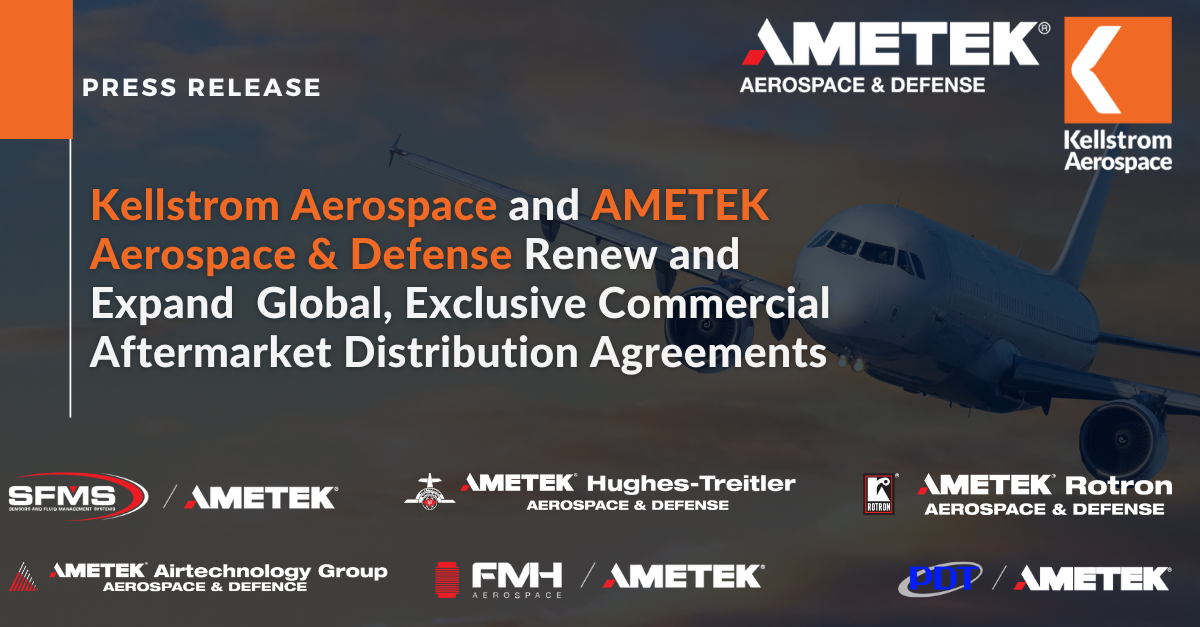 Kellstrom Aerospace and AMETEK Aerospace & Defense Renew and Expand Global, Exclusive Commercial Aftermarket Distribution Agreements
DAVIE, FL – January 24, 2023 – Kellstrom Aerospace (CAGE 5AA19) , a global commercial aftermarket OEM Distribution leader providing a comprehensive range of aircraft lifecycle solutions, is proud to announce the renewal and expansion of our global, exclusive commercial aftermarket distribution agreements with five (5) business units of AMETEK Aerospace & Defense including AMETEK Sensors and Fluid Management Systems (SFMS), Hughes Treitler, Rotron, Airtechnology Group, and FMH Aerospace for another five (5) years. Additionally, a five (5) year global, exclusive distribution agreement has been signed with Pacific Design Technologies (PDT) expanding the partnership to six (6) business units of AMETEK Aerospace & Defense.
Kellstrom Aerospace and AMETEK Aerospace and Defense have shared a global aftermarket partnership which has consistently grown in scope and size for more than twenty years. AMETEK Aerospace & Defense is the market leader with a broad array of high quality OEM products and aftermarket solutions ranging from engine and airframe temperature, pressure & fluid sensors, heat exchangers and surface coolers, high-performance fans, heaters, fluid and gas transfer hoses and advanced liquid cooling and pumping solutions. All come line fit on an expansive list of Boeing, Airbus, Embraer, Bombardier, Gulfstream, and other aircraft and on many engines manufactured by GE, CFMI and Pratt & Whitney. AMETEK Aerospace & Defense products offer the highest quality, reliability representing the latest generation technologies and provide global customers an outstanding choice for their sensing and thermal management solutions.
"We are delighted to announce the latest chapter in our long-standing partnership with AMETEK Aerospace & Defense, and we are very excited for the opportunity to continue to support our global customer base with world class service and high-quality AMETEK Aerospace & Defense products and savings solutions," said Daniel Adamski, Executive Vice President - Distribution at Kellstrom Aerospace.
"Kellstrom Aerospace has been an outstanding aftermarket channel partner for AMETEK Aerospace & Defense businesses for over twenty years and an effective conduit for commercial aftermarket growth with broad support capabilities on a global level. We are happy to enter the next phase of our commercial aftermarket partnership and very optimistic about the future of our collaboration," said Sheraz Ahmed, VP & General Manager AMETEK Aerospace & Defense.
About Kellstrom Aerospace
Kellstrom Commercial Aerospace, Inc. dba Kellstrom Aerospace is one of the largest commercial aftermarket distribution channel partners to leading OEMs, airlines, leasing companies, financial institutions, air transport operators and MROs worldwide. Differentiated by its operational heritage, on-hand relevant inventory and parts management emphasis, Kellstrom Aerospace provides immediate access to one of the world's largest and most comprehensive inventories of
new aircraft parts for engine and airframe heavy maintenance, phase checks and line maintenance.
Kellstrom Aerospace offers an unparalleled level of cost-effective supply chain solutions, including OEM parts distribution and OEM services, commercial aftermarket parts provisioning and sunset fleet services, technical services, consignment management, repair management, overhauled rotable component programs, whole aircraft/engine asset leasing and trading, and fleet provisioning programs based on real world experience. Kellstrom Aerospace provides 24/7 AOG and Just-In-Time (JIT) support covering all service offerings to over 2,000 customers in 90 countries. For more news and information on Kellstrom Aerospace, please visit: www.kellstromaerospace.com.
About AMETEK Aerospace & Defense:
AMETEK is a leading global manufacturer of electronic instruments and electromechanical devices with 2021 sales of $5.5 billion. The AMETEK Growth Model integrates the Four Growth Strategies - Operational Excellence, New Product Development, Global and Market Expansion, and Strategic Acquisitions - with a disciplined focus on cash generation and capital deployment. AMETEK's objective is double-digit percentage growth in earnings per share over the business cycle and a superior return on total capital. The common stock of AMETEK is a component of the S&P 500.